Designed to Commit $1 Million Annually for STEM education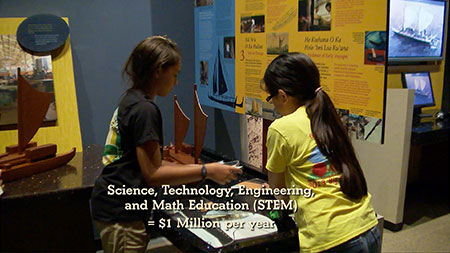 In November 2014, the Thirty Meter Telescope (TMT) launched THINK (The Hawaii Island New Knowledge) Fund to better prepare Hawaii Island students to master STEM (Science, Technology, Engineering and Math) and to become the workforce for higher paying science and technology jobs in Hawaii's 21st century economy. TMT's founding gift of $1 million anticipated the beginning of the construction phase of astronomy's next-generation telescope on Maunakea, Hawaii.
TMT's THINK Fund initiative was designed to benefit Hawaii Island students pursuing STEM endeavors with an annual contribution of $1 million over its existing 19-year Mauna Kea sublease with the University of Hawaii-Hilo.
The Thirty Meter Telescope initiated dialogue on the formation of THINK Fund in 2008 by asking a group of community volunteers to outline the mission, vision, purpose and implementation strategy of an education fund benefitting Hawaii Island students. The Organizing Committee that developed TMT's THINK Fund structure was comprised of Hawaii Island residents.
The Organizing Committee determined that scholarships, grant making and the establishment of an endowment would ensure the sustainability of improving educational opportunities for Hawaii Island students in STEM disciplines. It further recognized that an emphasis be given to improving opportunities for STEM education for Native Hawaiian students, not as an exclusive preference, but focusing on addressing the needs of Hawaii's host culture.
To date, TMT has funded $5.5 million for Hawaii Island students, their families and teachers.
THINK Fund at the Hawaii Community Foundation
Though the THINK Fund is currently on pause, the $1 million endowment still funds grants and scholarships that are available by online application to THINK Fund at Hawaii Community Foundation (HCF) and support a variety of Hawaii Island STEM student activities in and after-school, internship programs, and teacher-generated classroom projects. Scholarships support future STEM teachers on Hawaii Island as well as students pursuing STEM degrees and training.
Since 2015, THINK Fund at HCF has benefitted 26,000 students and 1,000 teachers through support of STEM education on Hawaii Island. TMT's cornerstone funding provided the momentum needed to attract additional donors and launch the STEM Learning Partnership in 2015. Grants have been awarded to innovative STEM programs and activities as well as to high-quality ready-to-go STEM projects in Hawaii Island classrooms. College scholarships have also been awarded.
THINK Fund at HCF is open to all Hawaii Island students including Native Hawaiians, teachers with STEM classroom projects, and organizations providing STEM programs that directly benefit Hawaii Island. Learn more and apply at www.hawaiicommunityfoundation.org/THINKFund.
The Hawaii Island offices of Hawaii Community Foundation are located in Hilo and Waimea.
THINK Fund Collaboration
THINK Fund was designed as an initiative to encourage and attract other funders who align with the mission and goal to improve STEM education and strengthen Hawaii Island's workforce, and TMT has served as the founding member of the THINK Fund initiative. The vision of this collaborative approach is to bring together the island community with funders in a partnership that strives to help Hawaii Island students long term.