MODHIS Science
Exoplanet atmospheres and masses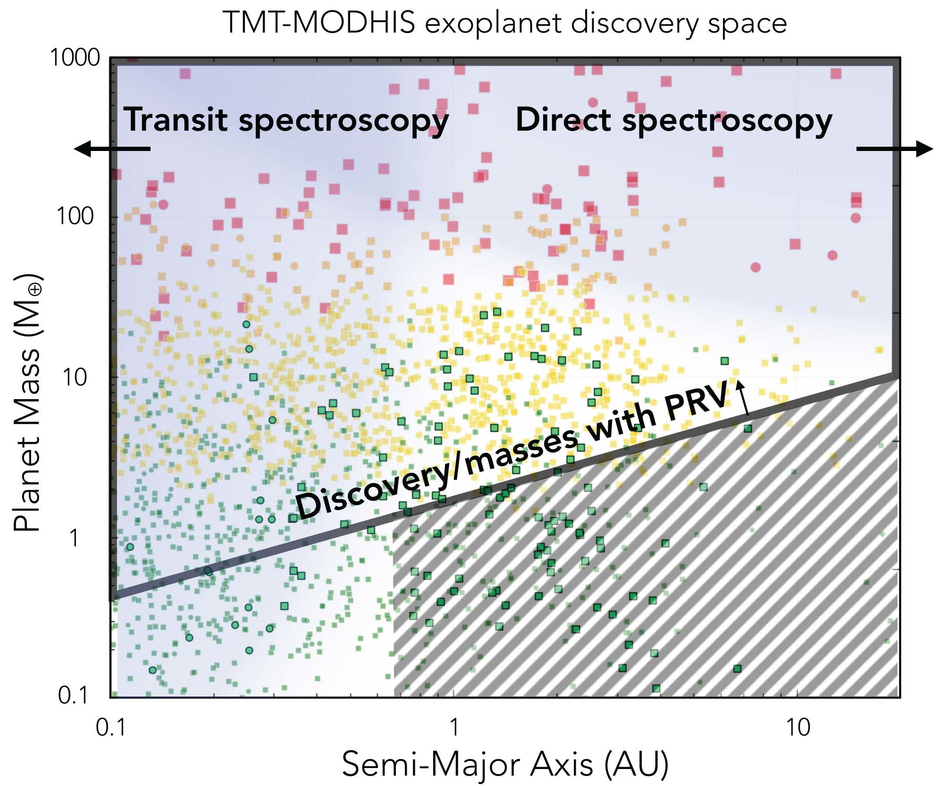 Transit spectroscopy. The RV technique has pioneered the field of exoplanets, but is currently reaching a bottleneck at ≃ 0.5 m/s due to our limited understanding of the influence of stellar activity and variability at optical wavelengths. Moreover, most late-type stars, due to their red colors, are currently out of reach of optical RV powerhouses such as HARPS and Keck/HIRES, and will continue to be so for next-generation instruments such as VLT/EXPRESSO and Keck/KPF. Infrared RV will provide wavelength leverage on both issues simultaneously. Taking full advantage of its innovative diffraction-limited design, MODHIS will be designed to reach sub-m/s (requirement: 30 cm/s, goal: 10cm/s) velocity precision. Joint operation with Keck/KPF and other contemporaneous optical RV spectrographs will provide unique opportunities to better model and remove spurious stellar noise sources.
Direct spectroscopy. Exoplanet searches at very small angles using high dispersion coronagraphy with simple coronagraphs. Molecule mapping in directly imaged exoplanets, exoplanet rotation measurements (length of day), exoplanet radial velocities, Doppler mapping (cloud dynamics, global circulation, winds, weather).
Precision RV. Masses, density and bulk composition of small transiting planets (Kepler, K2, Gaia, TESS, CHEOPS and PLATO). Planets searches for very cool stars, young stars and binary stars.
Star and planet formation
Hydrogen emission line profiles probing disk accretion physics. Atomic line widths indicating age. Zeeman splitting measuring stellar magnetic fields. Molecular emission lines (water, CO) revealing disk kinematics, abundances, and temperature structure.
Solar system
Composition of planets, moon, small bodies (e.g. comets, asteroids, KBOs). Isotopes as key markers of physical markers of physical formation processes in our solar system.
Stellar physics, chemistry, astro-archaeology
Stellar convection, differential rotation, stellar magnetic activity, mass loss. Chemical enrichment in Galaxy disk and bulge. Sub-giants and giants in the outer Galactic halo and in the neighboring dwarf galaxies. Chemical mapping to probe the origin and formation history of ancient stars.
Galaxy formation
Population III stars, reionization, intergalactic medium, massive galaxies evolution, supermassive black holes.
Cosmology
Extreme Precision RV (≲ 10 cm/s) over multi-decade baselines with Laser Frequency Comb can potentially probe cosmological constants and the Hubble expansion in real time (Sandage-Loeb test).